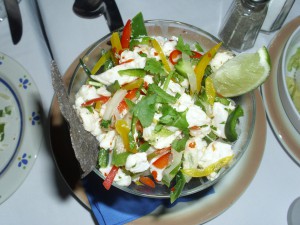 Amaury Torres has a dream. I have one, too. OK, so his is far more inspirational, starting in 1994 on a raft leaving Havana, Cuba, and traveling through Guantánamo, Panama and Miami before ending up on Highway 14 in the San Marcos area south of Santa Fe.
You can read about Chef Torres' journey on the lunch menu of his new restaurant, Babaluu's Cocina Cubana, or hear about it tableside from his charming and eccentric wife, Mary Kline Torres. I don't want to downplay the backstory to this funky new joint 25 minutes from downtown Santa Fe (I clocked it), but few diners return to restaurants for narrative. My dream is affordable, flavorful cuisine in décor that doesn't bore the fun out of me.
I wasn't so sure about Babaluu when I first called. I heard a dog barking in the background and the official launch of the Copa Cabana patio had been postponed until sometime in June. Having already made plans with my dining companions, I decided to risk it—and I'm glad I did. When you first walk up to Babaluu, you notice a colorful mural reminiscent of Cuba whose subtext reads, "Let's party!"
The inside is a little more eclectic: Mary has tried to liven up dark wood paneling with colorful drapes, mirrors and tchotchkes that my wife recognized from TJ Maxx and Target. But you can't hold the combination of wide plank floors and reflective candles against the Babaluu crew. As we soon learned, their hearts are in the right place. What the restaurant lacks in polish, it more than makes up for in care. Our server, Erasmo, was very attentive, even though he's still learning the finer points of the credit card machine. Mary wore a festive hat that looked like it was poured out of a soft-serve machine, and our table loved her. She worked the room in generous ways that are rare in what can often be the City Indifferent.
The Babaluu menu is fairly limited but changes weekly, and the chef locally sources much of what you eat. For appetizers, we tasted the ensalada de aguacate y jicama, Cuban-style ceviche and authentic Cuban papas rellenas. The big hit was the ceviche with fresh shrimp, mahi mahi and langostino.
Even those of us who usually think twice about ordering ceviche in the desert found it delicious. Next was the rellena. The size of a baseball, the white rose potato was lightly fried and filled with tasty ground beef "picadillo." I thought the salad was a bit bland, but the avocado and jicama tasted as fresh as I've had.
I was lucky that my dining partners were the kind of Santa Feans who transitioned from being vegetarian straight into carnivorism because, among the four entrees offered that night, only meat categories were represented. We tried them all, and the Cuban Refugee Platter was the hit of the bunch.
The pork was tender and flavorful, and the sides of avocado, black beans, maduros (plaintains) and yuca provided texture and spice. A reasonably priced Argentine malbec added smoothly to our experience. We finished with a smoky Cuban flan and an apple galleta with the type of flaky crust that you'd swear came from a Frenchman.
Chef Torres dreams of a farmer's market in his parking lot for purveyors who live, grow and raise products south of Santa Fe. In the summer, he and Mary swear there will be dancing, pig roasts and the grand opening of the Copa Cobana—the patio club we've always dreamed of.
Babaluu's Cocina Cubana
3810 Hwy. 14, 471-1100
Lunch Thursday-Monday; dinner Friday-Sunday. Beer and wine only.