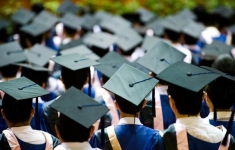 Dear Graduating Class of 2012,
First, let me say how saddened I was to hear about your original commencement speaker's unfortunate accident in the batting cage with the defective pitching machine. Wow. They say once the swelling goes down, the doctors will be able to figure out if they need to operate. To be frank, just thinking about it makes me feel light-headed. Hold on; let me get a sip of water.
When your principal called me last night to ask if I'd be a stand-in for the professional baseball player who was slated to give this address today, he couldn't understand my response because I had my occlusal guard in my mouth to combat my bruxism. Since you are young and I can see that most of you still have a majority of your pearly whites, you wouldn't know that bruxism is a grinding of the teeth. I started grinding mine in college when I found out that my father was preparing to transition into a woman we now know as Carlotta. Your principal said to keep it simple, PG-rated, and offer a message, so I have to spare you the messy details of Carl's hormone therapy, surgeries and subsequent acting out that turned him-now-her into a cocktailer at the Do Drop Inn. I guess the message here would be that you will encounter changes in life that will question everything you know, but don't give up—or something like that.
I was a bit taken aback by having to replace such a hometown hero, but then I remembered what Carl used to say (in the pre-Carlotta days): "Everyone has a story to tell." In fact, that's probably why your principal called on me. Many of you probably don't know that I'm the proud sponsor of the alternates on the Speech and Debate Team here, and I hope to someday sponsor those team members who attend competitions.
If you ever drive Highway 78 toward the newer mall, you've probably seen the green two-story building near the old Daylight Donuts. That is the former home of my costume and curiosity shoppe, which did a brisk business about the time you were born. Right now, I own and operate the Homespun News, a free paper that only publishes positive stories and gratis obituary notices. Sometimes coupons.
But on this glorious occasion, I want to tell you about a chance meeting I had with a man whom I consider very wise. This was some years ago, when I'd joined a men's group to help me get my head around my new parental situation. We met in the church basement, where they stored emergency supplies for tornadoes, floods and future military conflicts—heavy odor of iodine down there for sure.
The group was small but dedicated, and just as I thought I was losing my steam, in walked a new guy with a kindly weathered face like Kris Kristofferson, a man you've probably never heard of even though he wrote some of the saddest goddamn songs and dated the most beautiful women in American history. Jeez, I'm getting sidetracked here. Point of the story is that this man listened to me whine about a host of jobs and fiancées sunk by some real ugly luck, issues with Carl-now-Carlotta and a cluster of medical concerns I hadn't had a chance to get checked just yet. This man looked me square in the eye and said, "I met my fourth wife while I was living in my car." It stopped me in my tracks. Have you ever heard anything so full of hope?
That's what I want for you, Class of 2012: Hope. Your principal is signaling to me that I'm running out of time, so let me speed this up a bit. Take that baton of hope this fine institution has granted you and let it energize you over the many prickly hurdles that life throws in your way. Break that tape after running as hard as you can and hand that hope-baton off to a man or woman or a man-becoming-a-woman or a woman-becoming-a-man, even if he or she is drinking instant coffee in a church basement or cocktailing in a place that doesn't offer much in terms of tips, but it makes him or her feel more alive. Congratulations, Class of 2012, and good luck! Go forth!
Um, I think I was supposed to say that there'd be sheet cake in the cafeteria immediately following the diploma part.