THE LIFE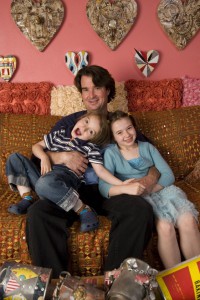 Robert Wilder is the author of a novel, NICKEL, and two critically acclaimed books of essays: Tales From The Teachers' Lounge and Daddy Needs a Drink, both optioned for television and film. He has published essays in Newsweek, Details, Salon, Parenting, Creative Nonfiction, Working Mother and elsewhere. He has been a commentator for NPR's Morning Edition, The Madeleine Brand show, and On Point and other national and regional radio programs. Wilder's column, also titled "Daddy Needs A Drink," was printed monthly in the Santa Fe Reporter for close to a decade. He was awarded the 2009 Innovations in Reading Prize by the National Book Foundation. Wilder has lived in Santa Fe, New Mexico, for over twenty years.
Visit Robert Wilder on Facebook.
Credit for the website: Photos courtesy of Jennifer Esperanza, Augusten Burroughs, Esha Chiocchio, and Gene Aker. Background image on home page by Garret Vreeland. Cool images on the home page by Danae Falliers.